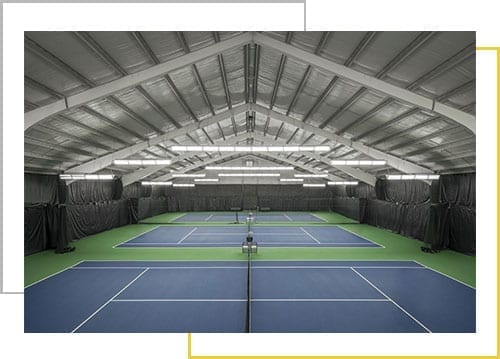 Prefab metal gym buildings are the perfect solution for a gymnasium facility. Often you would have the foundation designed such that it would allow holes for trampolines, health clubs, gym, or gymnastics equipment. If roof collateral point loading was figured into the building, it could have equipment hanging from the roof like climbing ropes; if you need a runway, the building can belong; in case you need a very high jumping, the building can be high with higher sidewalls or higher slope.
Prefab Metal Gym Buildings
For metal buildings, there is also a "gym" insulation vinyl that is much stronger than typical insulation vapor barriers. Some of the considerations could be stadium seating or pull-out bleachers like a school gym; a second floor as an overlook; a front office/entry, and it might include a storage area for clothes or equipment gymnasts might need. One of the most important things where a metal building would be the obvious choice is because it could provide a large span and open spaces for all that running and jumping. Build it the way you want. If you were to remodel an existing building, it could be more work than simply designing your new gym facility online and print out the plans. Once you have the design and plans, then you can start your layout.
It is most important that what equipment you plan for now and in the future all fit correctly. The process you will need to follow will vary depending on your location. If you are in a big city, you will need an architect. And, for some of the projects, you will need an engineer, for example, electricity or heating, and ventilation. Our recommendation is that you would use our design system and get your basic layout done first; layout your equipment; layout the areas as much as you can; and when you hire an architect, and you have already have taken out a lot of the guesswork. Starting fresh with a metal building kit will remove a lot of research to figure out what is existing in the space you are considering, like how to hook up to the floor, walls, or utilities for your use.
If it is boxing, gymnastics, a school, YMCA, health club, Pilates Studio, you can visualize the nice greeting area, a store, the very large open area in the rear, and even the exterior just the way, you need it to be.
Why Rapidset Metal buildings?

Reliable and customized designs

Cutting edge designing process

Free online pricing tool

Easy bolt-by-number assembly

Over two decades of experience

Value for money

Unmatched in quality and craftsmanship

Excellent customer service
Call us at 719-268-1325 or email us to help you design, engineer, detail and ship a high-quality metal building gymnasium that meets your specific needs.