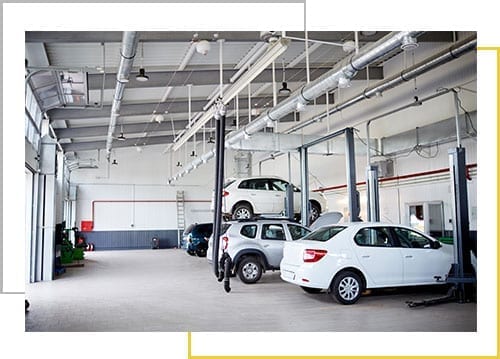 A Rapidset pre-engineered steel building is a great option for an auto repair shop. With Rapidset Buildings, your auto repair shop buildings can be up and running faster. You may see a return on investment sooner.
A pre-engineered steel auto shop can be designed to the exact specifications your business needs, for a much lower price and in a much faster amount of time than a building made of traditional materials. People are keeping their vehicles for much longer nowadays, so an auto repair shop or mechanic can be a lucrative business, and getting your building finished faster and more affordably is important.
You can customize your overhead doors, work bays, windows, and many other features. So the building is exactly what you need for your auto shop. The office size and layout can also be important for an auto repair shop. These can be customized when you order your building too.
With a metal building for your mechanic shop, you will have a strong and durable building that is fire-resistant and will last for decades. Since there is the involvement of highly flammable chemicals in working on cars, this is an excellent safety feature. You also do not have to worry about pests or mold in your metal building.
Another great benefit of having pre-engineered steel auto repair shop buildings is that they are easy to expand as your business grows. Space can be an important part of any business. So, if you decide later on that you want the space to work on another car or two, you can easily add it with a steel building. Expanding is much faster and more affordable with a pre-engineered building. All of the customization options available allow you to make any additions work however you need them to.
Why Rapidset Metal buildings?

Reliable and customized designs

Cutting edge designing process

Free online pricing tool

Easy bolt-by-number assembly

Over two decades of experience

Value for money

Unmatched in quality and craftsmanship

Excellent customer service
There are so many options to make your metal auto shop building not look like a metal building. For instance, a nice office/waiting room can have a storefront glass of block aluminum and double pane glass. It looks professional if you can visualize a nice counter, retail space, helpful and experienced counter personnel. Step up to the kind of presents and location you know will make you successful. Give us a call or email, and we can get started designing your auto or tire shop.