Residential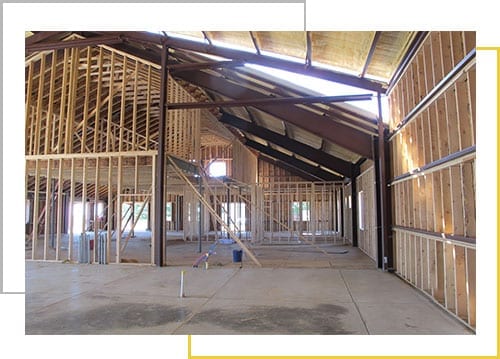 Let Your Living Space Stand Out with Metal Building House
With the rising cost of owning a traditional home, prospective homeowners are now increasingly on the lookout for cost-effective yet attractive alternatives.
Step-in metal building homes. In recent times the metal houses industry has experienced what can be classified as a boom, as homeowners seem to now warm up to the idea of owning a metal home.
Unlike traditional homes built with wood or concrete, metal homes offer many cost-saving and other benefits that cannot be ignored.
In addition, traditional homeowners have realized that they can even modify their existing homes with cost-effective prefab metal kits instead of spending a fortune on traditional renovations.
Here are some quickfire benefits of owning a metal building house.
Durability: Compared to traditional structures, metal homes offer better protection from strong winds, snow, rain, acid rain, sandstorm, and even tornadoes.
Flexibility: Meal homes come as clear-span structures which gives you the flexibility of use. You can make use of space in a number for practicable ways.
Fire-resistant: There is increase in insurance costs for traditional homes due to the risk of fire hazard. However, this is not the case with metal homes. As a matter of fact, insurance companies rather prefer insuring metal homes because they offer a lower risk of fire hazard due to their non-combustible nature.
Low Maintenance Costs: Metal homes offer owners lower maintenance costs overtime than traditional homes. So, they are a great investment if you are wary of spending a fortune in maintenance costs in the future.
Important Cost Considerations for Metal Building Homes
Although pre engineered metal homes are less expensive than traditional housing, there are still some things you need to consider before you decide on getting a metal home.
License: Every region has its own fees and terms and conditions for the obtaining of a license to proceed with the construction of prefab metal building homes. Wherever you might be located in the U.S, you can be sure that Rapidset Buildings is aware of the licensing requirements of your region.
Land development: Sewage requirements and other conditions need to be seriously taken into consideration prior to construction.
Finishing materials: The finishing of your metal home may require you to spend a little extra money. This all depends on what your expectations for your metal home are going forward.
Typical Floor Plan Sizes for Metal Building House
By knowing your floor plan, you would know better how you intend to use the space available. Generally, the sizes of metal homes are predetermined. So your floor plan may need to be structured around the available sizes.
Here are the typical sizes for metal homes.
40′ X 60′ Approximately 230 Square Meters:
Thanks metal home size is a popular one due to its practicality and overall cost. It is excellent for a two to three-bedroom metal home.
You can also get a single kitchen, living room, dining room, and even a small office/workspace. In addition, there is provision for extra space which can be used as a laundry room if you like.
55′ x 71′ Approximately 363 Square Meters:
If you want a much larger metal home, then this may just be the size you require. This metal home size is perfect if you want to build a five-bedroom metal home. There will be provision for a single master bedroom suite with its own toilet and bathroom, along with four average-sized bedrooms.
You can also get space for a couple of shared toilets and bathrooms. There is space for a living room, dining room, fairly large kitchen as well as an office/workspace. In addition, you get to have space that can be used for a number of purposes like laundry, and storage.
80′ x 60′ Approximately 474 Square Meters:
Spacious and ideal for a two-story metal home, the 80′ X 60′ clear-span metal home allows you to play around with so much space.
You can have a number of bedroom suites, a large open living room, a large kitchen plus dining area, a laundry room, and a medium-sized study/office.
Build Your Metal Building Homes from Scratch
With metal homes you only need to have acquired land. Rapidset Buildings construct all-metal homes from scratch at off-site warehouse locations where the steel is processed and constructed to specification.
In doing so, the steel construction is protected from the elements (snow, rain, wind, dust, and moisture) before it is transported to your land for on-site assembly. You will have a clear idea of the architectural design of your metal home before off-site processing.
Every detail of your home will be displayed to you in artistically rendered 3D animation. There is no limit to the type of residential building that can be achieved using steel metal. From shipping container homes, cottage homes, and duplexes, you can be sure that any architectural design of choice can be met with a metal housing construct.
Whether you want a country home in a remote part of town or an elegantly poised residential building in the city, we are on-hand to meet your every need. All our metal home designs will meet the strict building codes in place at the final location of their assembly. Rapidset Buildings will ensure that your metal home is delivered…
According to specification,
In excellent condition,
On-time and in accordance with the agreed timeframe.
Achieved Strength, Versatility and Architectural Beauty
There is a large collection of prefab designs for metal homes that you can choose from. In the past, people associated metal buildings with those used only in the commercial farming industry.
While metal buildings are still a staple part of the commercial farming industry with barns and storage areas built with steel, the use of metal construction has since gone beyond that.
Today you have farm, cottage, and country homes built entirely from steel. Steel metal homes offer strength, versatility, and architectural beauty that far outweighs what some traditional homes can offer.
Coupled with record time-on-site assembly and low maintenance costs, it's a no-brainer that metal homes are rising in both popularity and demand.
Metal Multi-family Homes
Whether you are a real estate developer or a private owner wishing to build a metal multi-family home, you have an array of residential options to choose from.
You can go for duplexes, townhomes, senior living homes, or condominiums. Your choice of the multi-family building is entirely up to you. However, whichever metal building you require, Rapidset Buildings assures you of a faster, less expensive metal multi-family home construction.
From the floor planning stage, there are serious considerations to the clear-span layout, your design expectations, and also any future practical usage of space.
The number of people expected to be housed in the home will be considered. This will be done alongside other considerations, such as; safety, heating, cooling, plumbing, and electrical specifications.
The bottom-line is Rapidset Buildings will cater to every detail, every expectation, and every need for your Metal building house. Offering safety, durability, and low maintenance cost guarantees that you cannot get for most traditional homes.