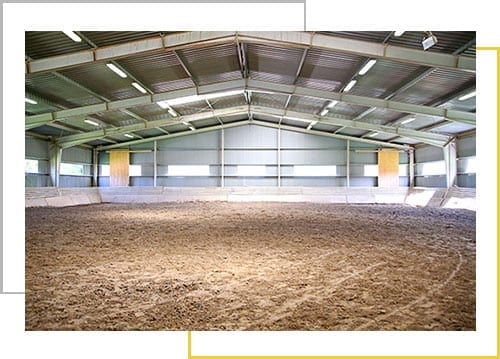 Rapidset Metal Buildings can design the prefabricated steel riding arena or metal riding arena for you that's cost-effective.
If you own horses, you'll know that rainy days bring mixed emotions. On the one hand, rain means your pastures will flourish, which means less hay to buy. On the other, wet slippery ground means that riding may be out for a day or two. Most areas in the USA have around 100 days of rain a year. That means raindrops are bound to fall at least once every three days.
If you love riding and training your horses, the only way to get around the rainy day blues is by installing a covered outdoor riding arena. That way you can continue enjoying your sport no matter what. A steel riding arena is an investment that pays for itself over and over again.
Why Build a Metal Riding Arena?
Apart from extra days of riding when the rain falls. A metal riding arena has a few more benefits you should know about:
Young, excitable horses are much easier to control in the confined space an arena provides.
Your horses will learn more and remember it better when they're kept working regularly.
You can train for an upcoming competition no matter what the weather brings.
Rain, snow, or shine, the surface of an undercover arena stays dry, soft and safe to ride in.
Very hot days won't keep you out of the saddle when you have a shady place to ride.
You can always practice your jumping and barrel racing courses undercover. If you're a professional horse trainer or riding instructor, you'll never lose out on income because of the weather.
Why Rapidset Metal buildings?

Reliable and customized designs

Cutting edge designing process

Free online pricing tool

Easy bolt-by-number assembly

Over two decades of experience

Value for money

Unmatched in quality and craftsmanship

Excellent customer service
When you think of a riding arena, you probably picture an Olympic sports facility or an upmarket manege as found in the poshest stable yards. Yet, an undercover arena doesn't need the grand dimensions and huge construction costs you have in mind. Call us at 719-268-1325 or email us to help you design, engineer, detail and ship prefabricated steel riding arenas that meets your specific needs.