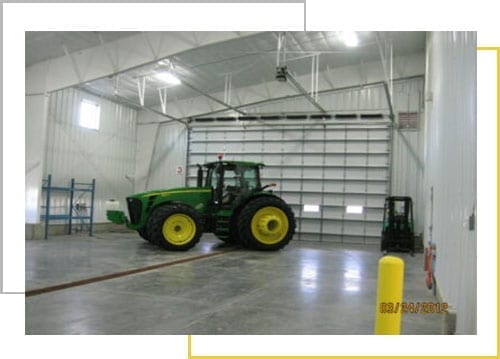 Rapidset Buildings provides affordable, long-lasting prefab steel barn buildings to farm owners. If you are a farm owner in dire need of strong, dynamic, and long-lasting metal barn kits on your farm, you can rely on Rapidset Buildings to attend to your needs.
The prefab steel barn houses that Rapidset Metal Buildings construct are flexible and you can modify the inside of the barn to suit whatever needs you to desire.
Whenever you go to a countryside home or a farmhouse, there is one structure you just can't miss. The barn is a multi-purpose edifice that is part and parcel of farm life. What would a farmhouse be without a barn? Where would crop yields, equipment, animals, and so on be housed?
Barns
Barns are as integral to a farm as the farmland, cultivated crops, farm animals, and staff. In the old days, barns were made from traditional building materials like wood. Though wooden structure barns were very well constructed and many can still be found on farmlands across the U.S. to this day. They were so often expensive to build. They required a good number of builders and took a tremendous amount of time to construct. Once constructed, wooden barns were at risk of crumbling down in a blaze from an accidental fire incident. The safety issues, coupled with the enormous physical and financial loss that could result from a fire led many farm owners to consider other options.
One of the most viable barn construction options available in today's market is the use of prefab steel barn buildings. The number of metal barns on farmlands in the U.S is rising on a daily basis, and the reason for this is not far-fetched.
Rapidset Buildings will provide you with pre-engineered metal barns that will stand the test of time. These barns will resist harsh weather conditions, retain their structural integrity, strength, and rigidity. They are non-combustible and save farm owners from the risk of any unforeseen fire incident.
Why Rapidset Metal buildings?

Reliable and customized designs

Cutting edge designing process

Free online pricing tool

Easy bolt-by-number assembly

Over two decades of experience

Value for money

Unmatched in quality and craftsmanship

Excellent customer service
They save you money on heating and air-conditioning apart from zero maintenance costs. Rapidset will construct off-site and assemble the metal barns on-site, in a professional manner with zero wastage of materials. You really should have a metal barn if you treasure the safety of your farm animals and you value the quality of your harvested crops in storage. A metal barn kit is what you need to achieve this.