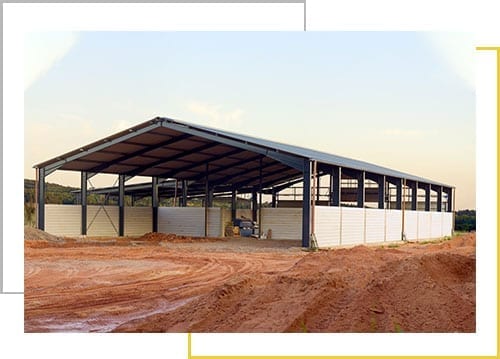 Rapidset Metal Buildings has gained a great deal of knowledge and experience in realizing a wide variety of projects in this agricultural sector.
High-quality agricultural steel buildings from Rapidset Metal Buildings are the most cost-efficient solution for agricultural buildings. We can customize any metal building design to your project needs. If you want quality agricultural steel buildings but don't want to pay full retail to get it, give Rapidset an opportunity to show how much building you can get from a true steel building wholesaler.
You'd be hard-pressed to find a harder working segment of the population than the American farmer. They have to deal with so many factors that are out of their control. Mother nature, fluctuating prices, exports, imports, and many other issues that they have to take into account in order to produce their product. That being said, it's imperative that they have a good agricultural building that houses the incredibly expensive machinery needed for their work as inexpensively as possible.
When you're putting a half a million dollar combine inside for the winter, farmers don't want any cheap building. They want quality agricultural metal buildings but don't want to pay more than they should. Dealing with a company that wants to add 25 to 30% profit to their price from their factory is an easy way to waste hard-earned dollars.
We Work Differently
At Rapidset, we understand that we need to make a profit; however, we don't operate with the same percentages that traditional dealers do. As a wholesale supplier of buildings, and with the sheer number of products we move, we don't have to charge what other companies do.
There are literally hundreds of companies in the United States that sell agricultural metal buildings. But there are very few companies that actually manufacture them. All of the dealers get their buildings from one of them. Rapidset has business partners with the largest and most reputable factories around the country. We do all the engineering in-house, giving us a much better price from the factory. Then we order it from the closest facility to where are customers are located. This saves our customers thousands in freight alone.
The modern farmer who is competing with large farming corporations and foreign producers, simply cannot afford to waste money lining the pockets of companies who don't understand the concept of reducing profit to make their agricultural steel buildings fit into a farmer's budget.
Why Rapidset Metal buildings?

Reliable and customized designs

Cutting edge designing process

Free online pricing tool

Easy bolt-by-number assembly

Over two decades of experience

Value for money

Unmatched in quality and craftsmanship

Excellent customer service
The farming community has been the backbone of the building business for decades. At Rapidset, we haven't forgotten that. You can go to our website and price your own building. It's the only one that will actually give you a price without having to call an 800 number at the end to see what it costs. And we're always more than happy to help you go through the process if you need a little guidance.