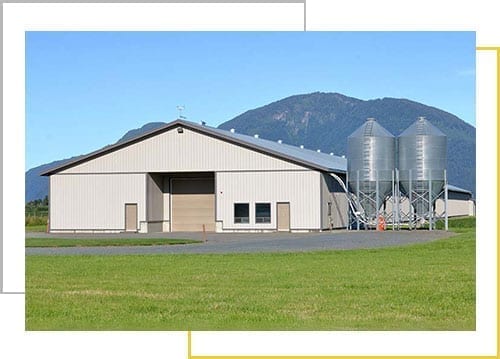 We are professional prefabricated metal building barndominiums and steel barndominium manufacturers in the U.S. Rapidset also specializes in supplying custom structural steel at a low price.
We warmly welcome you to wholesale bulk high-quality prefabricated metal barndominiums, and steel barndominium for sale here and get a quotation from our factory.
Barndominiums are one of the fastest-growing sectors of the steel building industry. The biggest user of Barndominiums by far are people with land that want a protected place to park their RV, cars, toys, and a shop on one end and a beautiful home/living quarters on the other.
For people in the process of retiring that still want a nice place and somewhere to store what they have accumulated over the years, without a huge mortgage to go with it, these are ideal options for living on the road in a motor home or having another house built.
A 2 story living area with a raised deck off of the 2nd-floor area is popular as are patios that don't require going up and downstairs. And if you don't want a full 2nd floor, but might want another bedroom for guests to use, it's a made-to-order place to add a guest bedroom and bathroom up above. Most all of these designs are tall enough to allow upward expansion, if only for additional storage.
Barndominiums Designs
The designs for Barndominiums are as varied as your imagination. The other type of barndominiums is the multi-unit designs that tend to be built nearer large cities, where people want more garage room than their present living situation will allow. These designs vary greatly, depending on the architect and what the local covenants will allow. And these typically lack some of the living amenities of the single unit styles.
Rapidset has been helping our customers with barndominium metal buildings designs as well as construction advice for years. Large windows to take advantage of nice views of the mountains, a lake, a river, or whatever you'd like to see are easy to install in steel buildings. As are porch roofs, overhangs, and just about any other amenity you'd like to include.
Why Rapidset Metal buildings?

Reliable and customized designs

Cutting edge designing process

Free online pricing tool

Easy bolt-by-number assembly

Over two decades of experience

Value for money

Unmatched in quality and craftsmanship

Excellent customer service
Whether you are looking at the city multi-family design or something on your own out in the country, the bottom line is this – Rapidset Steel Buildings will give you more cubic footage for your money than any other type of permanent building, and it's not even close. With our online pricing guide and our minimal markup, you can design your own place. You can also see how many metal building Barndominiums your investment will buy. Our website is the only free site out there that will actually allow you to design it yourself. And also get a price without ever having to talk to anyone. We're always here to help if you need us. But if you just want to shop on your own, please do so.