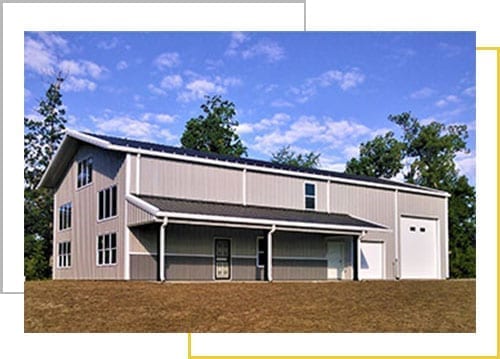 Rapidset Buildings are the leading manufacturers of metal home buildings and metal building home kits. With metal homes, a homeowner can easily modify and expand the design of their home in the future should their needs change.
The dream of owning your own home is a key part of "life, liberty, and the pursuit of happiness." And whether you're looking for an affordable first home or a second or vacation home, pre-engineered metal builds offer several advantages over stick builds. Our pre-engineered metal homes cost less to build and can cost less to maintain than a traditional stick build.
Metal homes are a cost and maintenance-efficient option. And also keep in mind: insurance – a necessary evil for every homeowner — for steel homes is often cheaper BECAUSE they are fire-resistant and more capable of handling extreme weather. Ease of maintenance and durability are concerns for any home. Because steel's strength to weight ratio is greater than wood, metal homes really are the best option; they are more fire-proof and hold up better against all kinds of weather. This makes metal homes a popular choice in areas that commonly experience tornadoes, hurricanes, and floods.
Choosing a metal home for your build means you're minimizing potential future structural issues and potential pest damage. Choosing a metal home for your build means that you're not just economically wise and smart about your time management; it also means you are choosing the material that is good for the environment. Reducing the amount of transportation AND construction time reduces any potential carbon emissions. And also, because pre-engineered metal homes have a significantly higher strength to weight ratio, fewer materials are needed. In addition, steel has a potentially never-ending life-cycle that produces far less production waste, both in the short term and in the long run.
Why Rapidset Metal buildings?

Reliable and customized designs

Cutting edge designing process

Free online pricing tool

Easy bolt-by-number assembly

Over two decades of experience

Value for money

Unmatched in quality and craftsmanship

Excellent customer service
Sometimes the most innovative things have been around for a while. You may be familiar with the Sears and Roebuck Mail Order Catalog homes, some of which are still standing. But metal build homes have been around, too, for nearly all the reasons we've highlighted here.
The lower cost to build and maintain, in addition to its superior performance in a variety of climates means that metal homes are a more affordable option, opening up the dream of homeownership to more people. The flexibility of pre-engineered metal homes makes it ideal for "on the grid," or "off the grid living. And finally, the fact that it's been around means that it works, works well, and will continue to work. A pre-engineered metal home isn't JUST an alternative to a traditional stick build; it's clearly the superior choice! Call all of us at 719-268-1325 or email us to help you design, engineer, detail and ship metal home buildings that meet your specific needs.