Farm & Ranch | Rapidset Metal Frame Buildings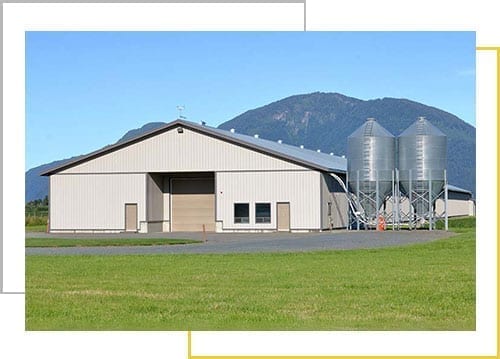 The requirements for farmers and ranchers are completely different than most others. These metal frame buildings are generally much larger with very unique and specific purposes. The farm and ranch buildings could involve buildings for storage of feed, seed, chemicals, livestock, or used for large equipment storage or repair.
The Farmer
Their requirements are more for storage and repair. The farm and ranch buildings we have produced for these purposes where everything from small repair shops, product or chemical storage, to large equipment repair.
The most elaborate building we have produced was designed for very large equipment repair. There several combines complete with cutting blades attached could enter the building to be worked on. This particular building also included a complete drive-through wash bay for large equipment, part storage, and a second-level office area.
The Rancher
Here the need is more for livestock and feed storage. These can be a simple as loafing sheds, hay storage, stock holding areas, or very large arenas with stalls around the perimeter walls.
Arenas can be of various sizes and uses. One being a simple cover for livestock, while others can host rodeos and riding events with stalls and feed areas. Here is also where the name barn has a whole new meaning. We have designed barns for town social gatherings, auctions, dances and living space. The term "barn" has always meant something different to each person and each has to be handled in different and unusual ways. Many have gone to the old-style roof designs to maintain the "barn" look, including the multi slope gambrel to the raised center barn look. In all cases, many have become real showpieces on their property.