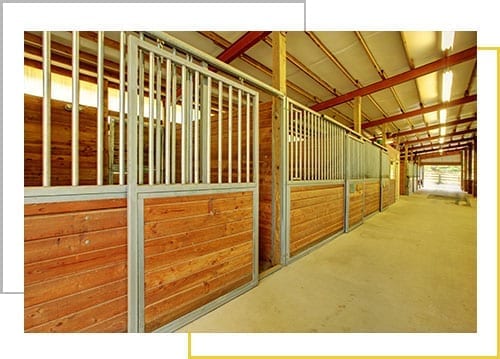 Rapidset provides prefab metal horse barns & tables with custom steel design, functionality & durability to meet your equestrian housing needs.
According to census data, over 4.3 million Americans are involved with horses in one way or another. Whether that's as a horse owner, caretaker, service provider, or volunteer, these individuals are committed to doing their best to keep horses safe, happy, and healthy.
If you work in the horse industry, you know this better than anyone. You're likely facing the question of how secure your horse stables are on a consistent basis, and we don't blame you: from natural disasters to horse theft, there are a lot of issues that can arise if your stable isn't up to par.
There are a lot of options for materials for horse stables out there. However, none of them are as safe and easily maintainable as metal horse stables. That's why a steel building for keeping your horses is a superior alternative to wood, concrete, or clay.
Not only will we let you test-drive a design of your steel building for free, but you'll receive a ton of benefits after the structure is built. Lower maintenance costs are one of these perks, but your insurance will also be lower when you use a steel stable. This money then can be used for other things around your farm or yard that matter to you!
Why Rapidset Metal buildings?

Reliable and customized designs

Cutting edge designing process

Free online pricing tool

Easy bolt-by-number assembly

Over two decades of experience

Value for money

Unmatched in quality and craftsmanship

Excellent customer service
Now that you know why metal horse stables make the best horse stables, it's time to begin the process of building one for your everyday operations. Click here to contact us and get a quote for how much it will cost to get your building erected. All you'll need to do is enter your information along with the desired building specifications, dimensions, layout, and accessories. We'll get back to you quickly so that you can begin financing your project.