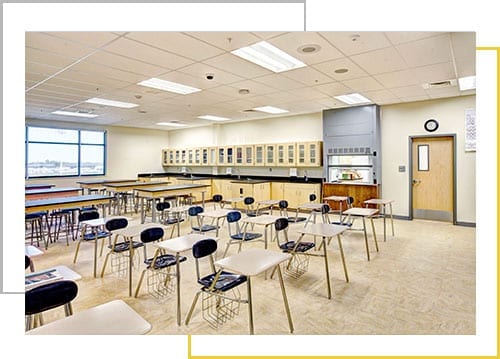 Rapidset Buildings specializes in the design and construction of metal school buildings. Using durable, prefabricated steel metal, the steel school buildings can be completed long before any conventional construction (that is using wood or concrete).
Every successful community is built on the foundations of a thriving economy, security, great healthcare facilities, and of course, very good schools. Schools play a major role in the community. They not only act as a citadel for learning, but they also act as a center for community building and social interaction. It, therefore, goes without saying that the quality of schools in any community is more or less a reflection of the success or otherwise of the region.
There has been a steady increase in the relative price of building schools the traditional way (concrete or wood) and the price of maintaining them. The high costs of running schools over a long period of time have led to communities seeking more cost-effective and practicable solutions.
Metal school buildings are now a viable alternative option for the building of schools. They are now gradually replacing the old ways of school construction and for several plausible reasons. One such reason is the fact that steel school buildings have long-term cost benefits to both public and private-owned schools. Metal buildings are therefore a quick, safe, reliable, time conscious, and highly durable construction alternative for school buildings.
Why Rapidset Metal buildings?

Reliable and customized designs

Cutting edge designing process

Free online pricing tool

Easy bolt-by-number assembly

Over two decades of experience

Value for money

Unmatched in quality and craftsmanship

Excellent customer service
Call us at 719-268-1325 or email us to help you design, engineer, detail and ship a metal school building that meets your specific needs.